Starting any new business can be a sleep-depriving, nail-biting experience for anyone, and starting a new landscape business is certainly no different. It takes time, money, perseverance and sometimes a lot of luck.
One of the frustrations I hear from landscape start-ups is that money always seems to be going out faster than it's coming in. Freshly-minted landscape professionals complain that every time they turn around they have to buy something just to get the job done.
My response to all of the challenges and issues that can arise with starting a new landscape business is the same to every new owner: take the time to write a good business plan.
Many problems can be avoided by understanding early on where you want your new business to go and what it will cost to get there. The good news is you can start a landscape business for little money if you're willing and able to start small enough.
When I started out, I was driving a 1973 Volvo four-door sedan (hand-me-down) with its fair share of mechanical problems. My first job was working on weekends for a college buddy. My second job was working for a gifted perennial gardener who was self-employed. She was driving a 1985 Volkswagen Jetta. We didn't have a truck between us!
We stuffed our tools, plants, bags of soil or mulch, and anything else we needed into our two cars and we made it work. Great thing about old cars...no worries about "dirt!" We were strong, we were eager, we were happy and it didn't matter that we didn't have the tools and equipment that the bigger companies had.
We worked together like this for a whole year. We were in hog heaven! And I'm sure that part of the reason we were able to do okay was because we were cheaper than the next guy. In fact, we were often chosen because we cost less than the "big-guys." AND, we also had a niche!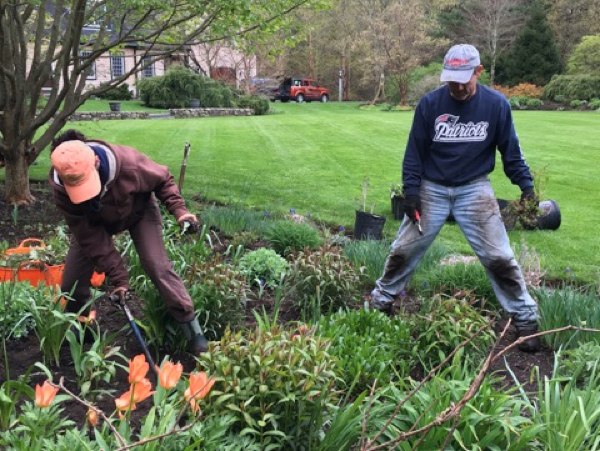 Looking back, I see how naïve we were. We still had so much ahead of us, so much to learn. We were operating 100% on our eagerness to learn and to do right by our clients. We didn't have to spend upfront to start work. Often, we had the clients buy the materials outright. We basically just had to show up, do the work, and manage to keep our passion alive.
This story is not unique. It's one I've heard over and over and over in my career. I hear it today in my business coaching practice and I've heard it through all the years of working side-by-side with all sorts of landscape professionals. So while this is one way to do it, it certainly isn't the only way, or even the best way.
With that in mind, let's take a look at a more systematic approach that can save you time, money, and headaches. Here are several key elements you need to consider as you embark on this adventure called landscaping:
1. Equipment
While you may be able to get by without one at first, sooner or later, you're definitely going to be considering a truck. When you do, check your desires at the door about that shiny new monster with chrome and the custom graphics and take a hard look at what you can really afford, and what will do the most work for you. I started with a used 1984 Ford flareside pick-up. Less money out the door means more money in your pocket.
A common strategy for landscape start-ups is to stay relatively small and flexible – a pick-up, a trailer, and a few small equipment selections to start. As you ID more and more needs you pick up the tools needed to address them. Simple, right? Just be careful. If there is no plan for how much money you will be spending on tools and equipment at the beginning of the year you can turn up at the end of the year having spent far too much and eroding your profits. Or worse, finding you have no money left at all to pay your taxes!
The better approach would be to ask this simple question:
Am I better off buying this piece of equipment at this stage of my business or would it serve me better to borrow it from a fellow landscape professional or rent it and pass that cost directly through to my client on that job?
It's this kind of questioning about spending money that will help you avoid leaking all your profits out into purchases that may not be the best use of working capital at that stage of your business growth.
2. Labor Rates
What to charge your clients for your time is always a tricky subject. If you've been working for another landscape company for a year, or maybe even for 10 years, then you know what you've been getting paid as a worker for each hour you work.
Deciding to make that big leap to strike out on your own is almost always connected to a desire to make more money, right? More than that hourly wage. So the big question is: "How do I know what to charge?"
What makes this question so hard to answer is that what you charge has less to do with what you personally want to earn per hour and more to do with all of the costs associated with running your business (each hour).
Before you set an hourly labor rate you want to know what it costs you at the end of the year to have run your business for that year. You must understand your overhead burden and work that number into your labor rate. In other words, what does it cost you to run your business for one day or even one hour?
To figure that out, you start with a list of all those costs that are required to have a business. Now I know, some of you are going to read this and say, "But there are so many 'hacks' out there with no insurance -- how can I even survive if I work that in?" My advice is to forget the hacks. If you focus on what the "fly-by-nighters" are doing, you will be focusing on the wrong things and never grow.
So here's a little homework that'll help you in the long-run: list out your insurance cost, your truck payment, your rent or lease payments, along with any other cost that is fixed and will need payment whether you go to work every day or not. Finally, and most important, jot down your estimated taxes for that year. Guess if you have to, but include a number for taxes!
All of these costs need to be annualized -- what it costs for a whole year - even if you only work 8 months. Divide that number by the number of months you think you can work; say, 8 months if you're in New England. Then divide that into the number of weeks in that 8-month period you're planning to work. You can even break it down into days and hours. But remember, if you are going down to hours, you need to be thinking of the BILLABLE hours. Meaning those hours you work and invoice for.
Now you have an overhead burden number that you know you have to recover. It may work out to, say, $25 an hour that you need to make just to pay your bills. So if you were hoping to make $30 an hour for your time and that was what you planned to charge your client...you can see how that doesn't work. The math doesn't add up!
Instead, that overhead burden number gets ADDED to what you'd like to earn for your time. So $25 plus your $30 gives you $55.00. Now you have a REAL labor rate! Get it?
This gets more complicated when you start bringing on employees, so just beware and be ready to do the math to make sure you are recovering that fixed overhead burden you just figured out, along with all the associated costs of carrying employees (wages, insurances, uniforms, training, etc.).
Here's the bottom line: what you charge is NOT what you want to make. What you charge covers your costs associated with running a business plus a portion of what you'd like to earn on top of that as a business.
3. Products
It goes without saying that it costs a lot of money to build or renovate a landscape. To get a job done you have to spend money upfront to get all the products you will need to actually build that landscape. It even costs upfront money if you're running a maintenance company -- mulch, fertilizer, and plants, just to name a few expenses.
Emerging landscape business owners often find themselves using credit cards – and sometimes multiple credit cards -- to pre-fund their projects or to start up their season, which often costs a lot of money in interest charges.
This is a slippery slope that may land you in hot water.
A truly professional organization requires deposits from clients for the upfront costs of doing their job or starting their maintenance season. This is both reasonable and appropriate.
However, this idea is often scary for new business owners. They think, "I don't want to be responsible for holding my client's money when I haven't done any work yet!" I get it...I remember saying that myself in those early years.
This is something that needs to be addressed early on. You will need to get over that fear to grow your landscape company. Yes, by taking in deposits you create a liability for your company. You're taking $1000 from your client and now you owe them $1000 of time and materials. This simply means you'll want to have a clear delivery plan to make good on that. So get it on the schedule and get it done. It's as simple as that.
An opportunity for additional revenue that new landscape business owners often miss is adding a markup to materials. Remember, you're spending time planning, purchasing, and delivering materials and plants to your clients. All of that time needs to be factored into the cost of your job and invoiced to your client.
Additionally, you should be purchasing all of your materials and plants at a wholesale cost and ideally have your business set up with a tax resale number so you are not paying sales tax on your purchases. This provides you the opportunity to markup everything you sell and also to pass on the sales tax to your client.
These additional revenue streams are critical to your success as a business owner. This means hiring a good accountant and bookkeeper who will help ensure that your business is properly set up to make money from multiple revenue streams: labor, materials, plants, and even equipment.
4. Guarantees
The landscape industry has a long history of offering unqualified guarantees to its clientele for plants. The big box stores have made this very hard for smaller nurseries and landscape companies. "All plants guaranteed, no questions asked" is a hard promise to live up to. You mean to tell me, if a customer buys a plant and it dies – regardless of whether they even planted it or cared for it properly -- they get their money back? Really?
I highly recommend that you put your guarantee in writing and review it line by line with your clients before starting their projects. Have a promise that says you'll buy high quality materials, transport and install them correctly, and provide follow-up care instruction. THEN, require that they have a plan to follow up with proper care -- watering, mowing etc.
This small effort will help you to avoid guarantee losses both by keeping you on task to do a good job, and by identifying the client's responsibility for caring for this landscape after it is complete.
This still holds true: plan your work and work your plan.
When I started my business over thirty years ago, my expenses were low. I bought a pickup truck for $5,000 and some tools for around $1,500. I had a computer from college and that was it. So I mean it when I say, you can start a landscape company on a shoestring.
What you can't do is grow a landscape company that way. I know because I did it that way for about 10 years. It was a hand-to-mouth existence, professionally and personally. I woke up one day and realized that was no way to live and I wanted something different.
So, I dove into the work needed to really build a business that would pay me more than an hourly rate. That takes effort and commitment and you don't do that work alone. You do it with professionals at your side -- lawyer, accountant, bookkeeper, financial planner and maybe even a marketing guru and a business coach (I've used several). And you do it by putting your dreams and aspirations on paper and then building an action plan to get it done.
Yes, it costs a lot to run and build a landscape company. The overhead is high, the time investment is high, and the mental investment is high. It's a labor intensive profession. But if you're up for all that, just make the commitment to put together a solid plan, to get to know your costs, to be responsible and accountable, and then go for it. It'll be an adventure that has the potential to make you good money while you create slices of paradise for others, I promise.
Looking to improve your landscape business? Learn from more than 30 years of landscape business experience by downloading the Landscape Business Owner's Survival Guide eBook.
If you are ready to take action now, sign up for the extensive Landscaper's Freedom Formula on-line training program.
Image Copyright: 123RF Stock Photo