Finding the right talent to fill critical roles in a landscape company is tough enough in normal times, but when you throw in a pandemic environment into the mix, it can be downright impossible. As a result, owners are stretched even thinner than usual and feeling desperate to duplicate themselves to take some of the burden and stress off of them.
However, the thought of training someone adds to their exhaustion and the feeling of being overwhelmed: "Who has time? I need to get things done NOW." So the landscape business owner instead undertakes a frantic search for someone highly capable, accomplished, and proven to be successful at what they do. They just want to keep things moving forward and are willing to pay for the skilled, experienced help they think will rescue them.
And that would be a mistake.
Unfortunately, this approach often ends in disappointment because there is no plan for success behind it and no willingness to invest in developing one. Instead, the owner has a knee-jerk reaction to an immediate pain.
If you find yourself in this situation, a more successful (and profitable) approach would be to take a deep breath and break down the overwhelm into manageable pieces. By sorting the various skill needs into their corresponding business-related categories you can look clearly at your current team and identify individual members who are capable of taking on one or more of those needs and responsibilities you've identified. Instead of trying to find all of those job-description attributes in a single new super-employee, consider spreading them among several current workers for more achievable and sustainable results.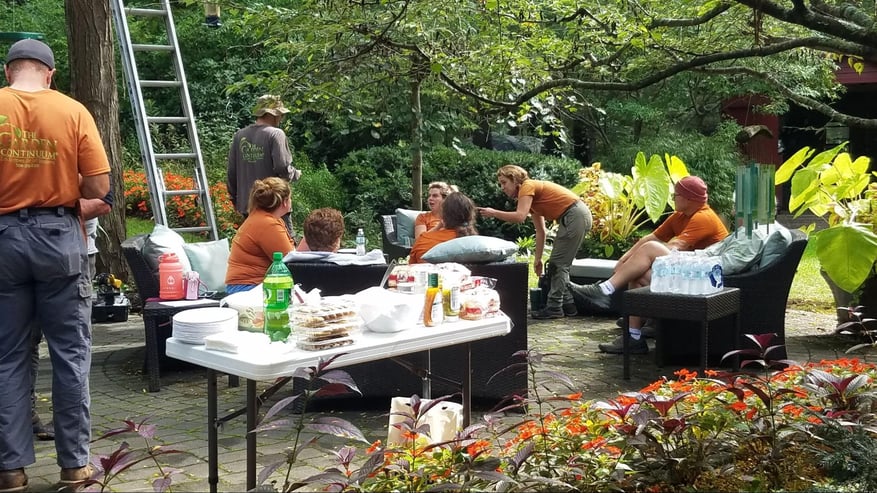 Nothing like a late summer cookout to boost team camaraderie!
Let's take a look at 5 steps that will help you make correct decisions about hiring and training:
1. Slow Down
The biggest mistake I see landscape business owners make is attempting to hire one person to replace them. It's simply not possible. Owners are usually highly capable individuals who have the willingness, experience, energy, and desire to wear many hats. Even the best employees generally are not cut from the same cloth. It's important to understand that the person in that two-page job description you've just written is a copy of you, the owner, and that person isn't looking to work for you. They're running their own business.

This is why it's so important to slow down, understand what's overwhelming you right now, and then determine what needs to happen to specifically address whatever it is that's causing problems.
2. Categorize
This step is where you break down the overwhelm into categories, starting with what you're feeling. If you're tired all the time, why is that? Are you working too many hours, working outside of your comfort zone, being pulled in too many directions? Be as specific as possible in finding the root causes of your exhaustion, for example:
Perhaps you're feeling frustrated. What is it specifically that's frustrating you? Are jobs not getting done correctly or taking too long, is equipment constantly getting damaged, are you always putting out fires? Once you've identified your source or sources of frustration, try to determine what's causing them; for example:
3. Assign
Once you have some of these categories broken down, sit down with current staff and address issues that need to be addressed. Remember, though, just because you're feeling overwhelmed right now doesn't mean you have to overwhelm them as well. Pick one or two of the more important issues and ask them for help. Poll your people for ideas – you may be surprised at what they know and understand. Be positive. Ask for a "champion of change" who is willing and able to lead the charge for an improved work environment that will lead to a more positive experience for both your team and your clients. If you have a multitude of issues that need addressing, plan on tackling two or three a month, max. Again, don't overwhelm everyone and recognize that some problems may take longer than others to truly resolve. As progress is made, be sure to recognize it in some way – a pat on the back, a kind word, a cup of coffee, a little morning celebration with muffins – something that says "I appreciate everything you do, this is important." When employees feel valued and respected they're happier and more productive. Good always produces more good.
4. Strategize
Now that you've begun to resolve some of the issues your business faces with your current team, you've bought some time to look more closely at the tasks and situations that warrant adding a position in your organization. That's where your handy organizational chart comes in. Remember, this is a "living document" that is meant to evolve and adapt as your business grows and changes. In some ways, it's similar to a family tree that grows as you do. It will help you visualize where you might need to add some branches.
Identify a single gap in your organization that's causing problems and consider the kind of position you need to create to fill it. Where will they fit in the production cycle? Who will work under them and who will they report to?

Keep it simple. Don't try to address every remaining issue with a single new employee responsible for a bewildering range of tasks that lack focus. Instead create a position with a clear title, tailored for success with tasks that are related and make sense.
5. Recruit
Now that you've created a position that is both reasonable and manageable, write a compelling job description that clearly defines the role and the problem it solves. To ensure that the position is aligned for growth with your business, look for a prospect with the right character traits – someone with the right attitude and the flexibility to evolve and grow with you. Emphasize job security over role security. Changing a position is easy, changing a person is hard. Yes, skills are important, but the right person is even more so.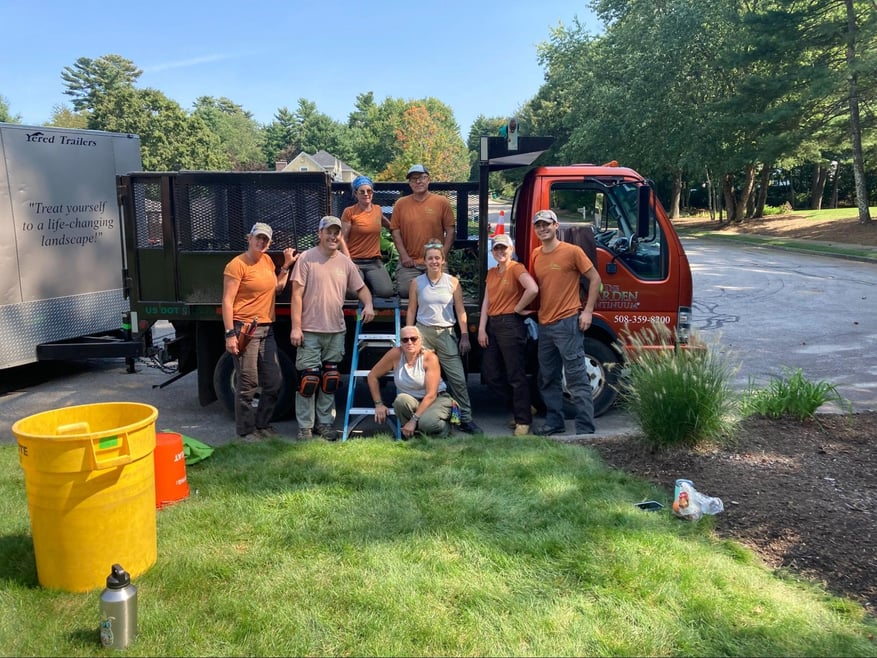 Teamwork is an important part of company success. Make it fun!
Invest in people to succeed
Investing in people is one of the most important aspects of leadership. As a landscape business owner, no doubt you've worn multiple hats over the years, acquiring skills and experiences along the way that have informed how you make decisions and run your business. If you're feeling overwhelmed at the moment, don't make the mistake of looking to duplicate yourself in a new hire. That's virtually impossible. Instead, focus on investing in the right kind of people who can help you grow by becoming an integral member of your team culture. Looking for someone to rescue you is a short-term fix with little staying power. Finding someone to grow with your organization is the path to long-term success that will offer you freedom and satisfaction.
Team-Building is the cornerstone of thriving businesses. If you're ready to commit to your freedom as a business owner and leader, shoot me a personal email at Monique@TheGardenContinuum.com.
Let me know about your recruiting journey. Give me feedback on this blog post. I read every response sent to me because the landscape industry needs leaders like you who will roll up their sleeves and do the incredibly honorable work of being an employer. I'm totally up for the conversation!